When it comes to emergency garage door repairs and servicing, and the installation of garage doors in the greater Brisbane and Ipswich region, there's only one name you need to know — Purple Patch Doors!
For more than 20 years, Purple Patch Doors have specialised in installation, repair and other  garage door servicing. Our team of highly experienced, qualified technicians can be dispatched to your location rapidly and give you an honest assessment. We pride ourselves on our trustworthiness and will never offer you products or services that you don't need. We genuinely provide the highest quality garage door repair at the most competitive prices you will find. All our new garage doors operators also have an amazing 7-year warranty, helping to give you confidence and peace of mind.

Common issues and garage door servicing
Although there are plenty of steps you can take to minimise potential damage to your garage door, regular professional maintenance and servicing will undoubtedly extend its working life. Additionally, trying to repair or service certain parts of your garage door can also be dangerous if it's not done by a professional. So if you're ever unsure about the best course of action, make sure you get in touch with the experts at Purple Patch Doors.
Parts of a Garage Door

You might also be wondering, "How much does garage door repair cost?" The good news is that It can be relatively inexpensive if you keep an eye out for the regular culprits — here are a few we've encountered over the years:
Broken springs
Powerful torsion springs connected to cables counterbalance a heavy garage door and allow it to be raised and lowered by hand. However, because these springs are under constant pressure, they eventually break.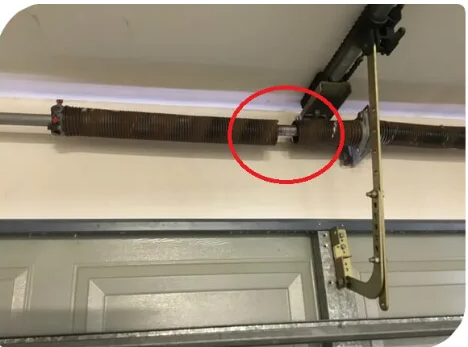 So if your garage door suddenly feels heavier than usual to lift, then the springs probably need to be replaced.
Grinding or squeaking noises
If you hear these types of noises while your door is opening or closing, there's a good chance your rollers are worn out or insufficiently lubricated. Lubricants can be applied as a first port of call. However, if this doesn't resolve the issue, then rollers can be replaced if necessary.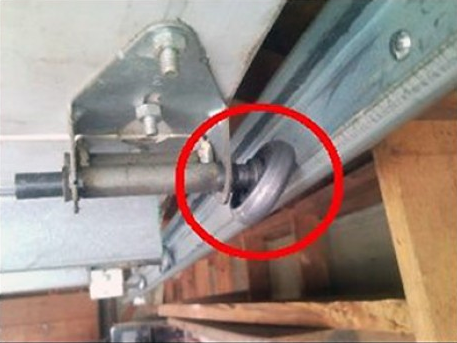 Rattling and popping noises
Rattling noises when moving may be due to loose screws or nuts and bolts. However, popping is more likely to be related to the torsion spring; it likely needs to be lubricated or adjusted.
Uneven door movement
If your door is opening or closing unevenly or clunkily, it's entirely possible that the tracks may be partially blocked by debris. In these instances, it's crucial to clear them as soon as possible, helping ensure that damage won't be done to other components in the process.
Impact damaged doors
Have you run into your garage door? We have years of experience in servicing and emergency repairs on all types of doors, including tilt doors, roller doors, and sectional doors and we service every major brand of garage door and opener.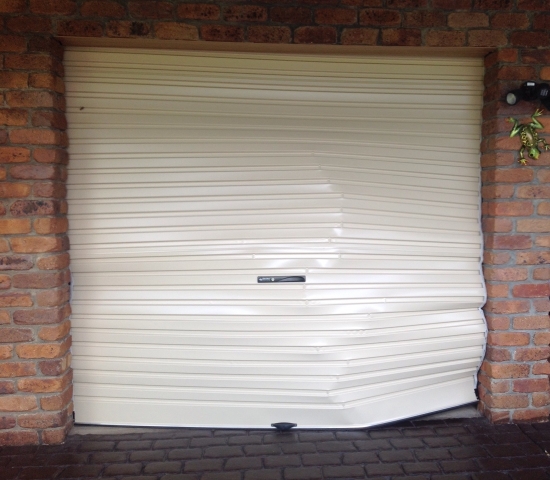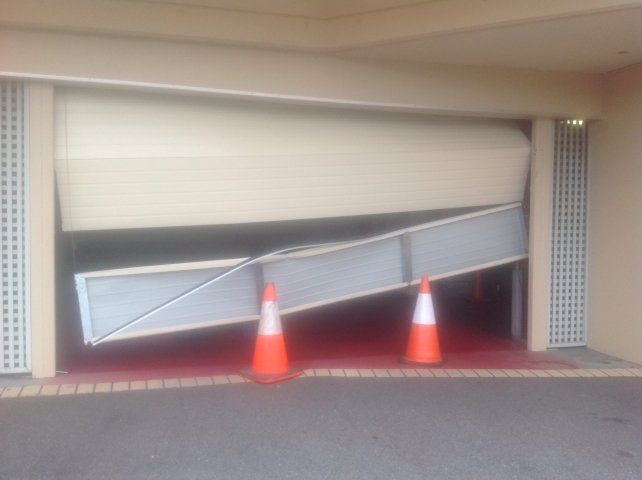 Purple Patch Doors can also replace your impact damaged garage door. Our technicians carry out a thorough safety check and then give their recommendations for your garage door repairs or replacement. We provide the most competitive prices in Brisbane, and you can be confident in the quality of our service.
Get in touch with Purple Patch Doors today 
Our team consists of qualified and trained staff, some of whom have been with the company since its inception. Purple Patch Doors technicians are experts in their field, qualified installers and QBCC Licensed. Our depth of experience and understanding of the products allows us to meet the individual needs of all our customers.
If you need an emergency garage door repair, the assistance of a technician, or have any other questions or comments, please contact us today. One of our friendly, professional team members will be only too pleased to help you learn more about our range of services.
Need a technician in a hurry? CALL US NOW and we'll get one of our trained specialists to your door – fast! Our technicians can quickly be dispatched to you anywhere in the greater Brisbane and Ipswich areas. Our vehicles are fitted with GPS so the depot can pinpoint your location to make the repair process fast and efficient.